The Crescent's $12 Million Makeover in Downtown Dallas » Dallas Innovates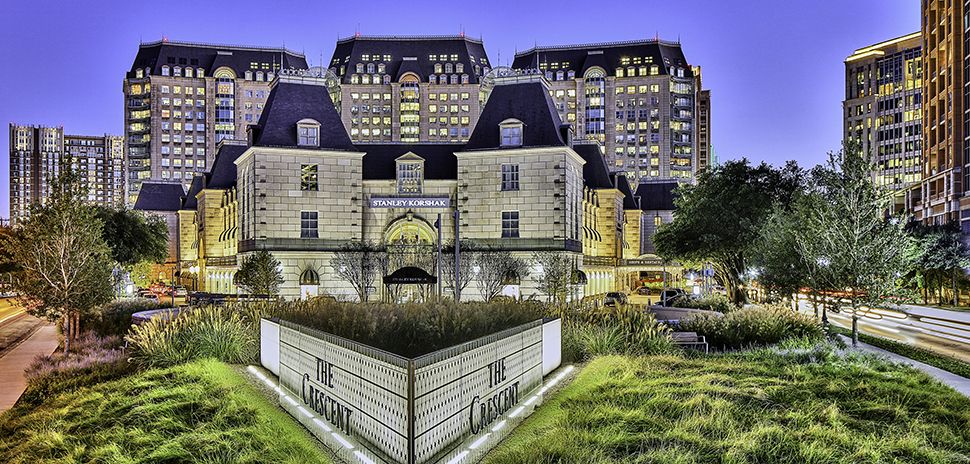 A Dallas office complex that has been a postmodern landmark since 1986 has had a $12 million makeover. The Crescent, a 10-acre complex designed by Philip Johnson and John Burgee, includes more than 1.1 million square feet of office space in three office towers, as well as the Crescent Court Hotel, an upscale shopping mall range and 11 gourmet and casual restaurants.
Now it also offers something brand new: the first floors of all three office towers have been updated and enhanced with a contemporary and inviting new look.
"The Crescent experience begins on our doorstep. As our customers continue to return to the workplace, now is the perfect time to make changes and add amenities to reflect the desires of those who work and visit The Crescent," said John Zogg, Managing Director of Crescent Real Estate.
The renovation comes as The Crescent has boosted its occupancy rate to over 96%, bolstering its reputation as the "financial hub of the South West". The property recently announced a series of new leases, from UBS to JPMorgan Chase to an investment firm behind "Ghostbusters: Afterlife." In May alone, the Uptown Dallas mixed-use development announced 81,860 square feet of total leases, including four new leases and four renewal leases signed by existing tenants.
Here's a visual tour of the renovation, along with insights from the design teams behind it and Crescent Real Estate LLC, which bought The Crescent for the third time in March 2021 and invested the $12 million to renovate its GP Invitation Fund II.
Project realized by DLR Group and J|a Kreativ
Globally integrated design firm DLR Group and J|a Kreativ LLC led the interior renovation of The Crescent, with the goal of maintaining the integrity of Philip Johnson's design and Caroline Rose Hunt's vision.
General contractor Scott + Reid "worked meticulously to complete the project on time," according to Crescent Real Estate, and in doing so exposed "incredible attention to detail," according to J|a Kreativ.
"The success of this effort is that it is not decorated, but curated to harmonize with the iconic nature of the building project," said Jo Staffelbach Heinz and Andre Staffelbach from J|a Kreativ. "By being timeless, understated and non-intrusive – in other words, it supports newly created focal points – it is and will remain enjoyable.
'Inviting, comfortable and

productive

settings'

Art Bloodworth, Principal and Chief Design Officer at DLR Group, says curated harmony will translate into everyday benefits for Crescent tenants and visitors.

"The improvements also support best-in-class work environment expectations that will support office staff and visitors now and in the future," Bloodworth told Dallas Innovates, including "areas of lighter and brighter arrival, connection and transfer areas balanced with hospitality-focused lobby environments that provide inviting, comfortable and productive settings to get away from your desk while staying on the property.
'Designing timeless environments'
It wasn't the first time André Staffelbach had renovated a historic property, balancing the weight of history with an embrace of contemporary improvements.
"Having been involved in the rejuvenation of iconic properties early in my career in Switzerland, I have had the advantage of understanding the design of timeless environments," said Staffelbach. "It requires a simple approach to the envelope – the interior architecture – and establishing very few focal points so as not to create visual conflict."
Staffelbach said The Crescent project involved "a in-depth study" of the history of the Crescent, the architectural products currently in place, the present and the future of the complex occupants, as as well as the neighboring office buildings, the Crescent Court Hotel.
Key elements of the renovation were brightening and refreshing the three halls and the lobby, and replacing the artwork installed at the start of the project, Staffelbach said.
The Crescent celebrated history at its inception
Bloodworth of DLR Group noted that even at its inception in the 1980s, The Crescent was created with a sense of history, and preserving this element was a mission of the renovation.
"When it opened, The Crescent was hailed as 'a celebration of art, history and architecture,'" Bloodworth said. "It was important to everyone on the team to keep its character and beautiful details intact, while addressing concerns about lighting levels and comfortable gathering spaces. This, and the fact that the three office towers each have a north and south lobby connected to long competition corridors.
All of these lobbies and hallways featured an "tremendous amount of royal pink marble and gleaming bronze detailing on every surface," Bloodworth said, adding that "the team focused on the areas of focus that would have the most impact." impact while comfortably existing with much of the original material palette.
Light everything up and offer "elegantly discreet" seating
In 1986, modern LED lighting and all its possibilities were not yet available. To create a light and airy ambience in the Crescent's halls and hallways, the existing 1″ by 1″ mosaic tile ceilings were raised eight inches and replaced with "beautifully finished and painted surfaces adorned with upgraded pendant lights. , LED lighting coves, directional lighting and floor-to-ceiling lighting panels," says Bloodworth.
J|a's design team sought to replace the existing lighting with a more modern 'glow'.
"Not only did these quirky pendant lights not produce adequate light, but the individual lamps within the fixtures were visible," said Staffelbach and Staffelbach Heinz. "Monte Martin of Martin & Martin Design redesigned the total interiors in the existing glass front and retrofitted them with LED lighting for an uninterrupted full glow. Additionally, the ceilings were treated and LED up-lights were added. been installed to light and illuminate these halls.
The new lighting system makes the corridors between the halls much brighter and more welcoming.
"Sober and elegant furniture"
High-end contemporary furnishings in "elegantly subdued hues" – from benches and individual seats to a variety of tables – have also been added to provide attractive workspaces for visitors or tenants making calls or having meetings. informally away from their offices.
Newly commissioned works of art
The original Crescent was basically one huge palette of artwork. This tradition lives on in a mix of existing and newly commissioned works.
"The original office tower's lobbies were designed as stately spaces, with dozens of stone walls and floors, minimal and dramatic lighting, and devoid of any furniture," Bloodworth noted. "The architecture was huge, but it allowed the focus to be on the artwork commissioned for each space. I am very pleased with the attention taken by the Crescent team to preserve the impressive series of sandstone sculptures by Brad Goldberg in two of the tower's main halls and have them restored and illuminated by our lighting team for take them to a new level.
But what many visitors will notice is all the new artwork that has been introduced.
The renovated lobbies feature new original artwork by several nationally acclaimed artists, including contemporary sculptor Brie Ruias, a Brooklyn-based artist who creates large-scale ceramic abstract pieces; Landon Metz, a New York-based artist whose practice is defined by dynamic, minimalist forms and contains washed-out color fields; Saif Azzuz, a Libyan-Yurok artist whose paintings explore the interconnected and dynamic practices of indigenous land management; and Matt Kleberg, whose upbringing in Fort Worth and ranching roots in South Texas influence his boldly colored geometric paintings.
The new large-scale artwork was purchased by Runyon Arts, who worked with Crescent Property to carefully review and select each new lobby gallery wall.
"These pieces transformed the space and are supported by our design team's bespoke furniture group and rug collections, designed to complement the quality and scale of each grand hall while complementing iconic interiors. of The Crescent office towers," Bloodworth added.
Renovated fitness center
Another element of the renovation was the Crescent's fitness center, an exclusive amenity for those who work at the resort. ENTOS Design designed what Crescent Real Estate described as "an elegant and luxurious fitness center with floor-to-ceiling windows and large spaces, accompanied by beautiful wooden ceilings and marble surfaces that make the fitness center an oasis for those seeking health and wellness."
Join the list.
Dallas innovates, every day.
Sign up to keep an eye on what's new and coming to Dallas-Fort Worth, every day.