The Black Chapel Pavilion at the Serpentine Galleries channels light from above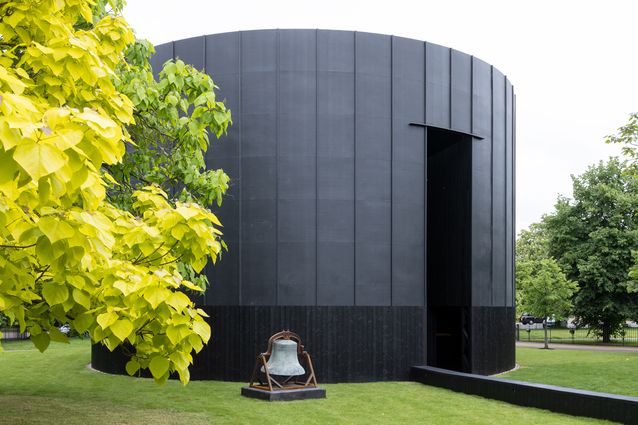 The Serpentine 2022 The pavilion opened on June 7 in London, revealing a ten-metre cylindrical structure standing among the trees of Kensington Gardens, titled Black Chapel.
Created by Chicago artist Theaster Gates with architectural support from Adjaye Associates, this is the first Serpentine Pavilion commission to be awarded to an artist, as an honor typically bestowed on architects.
The structure was designed as a space for "gathering, meditation and participation", the Serpentine Gallery said.
Crafted from mostly blackened wood, the design is meant to reference the bottle kilns of Stoke-on-Trent as well as draw inspiration from religious instalments and traditional African Musgum mud huts from Cameroon.
As the name suggests, Gates designed the space as a spiritual facility and place for quiet reflection.
A three meter opening in the roof of the pavilion creates a transcendent downward play of light from above, producing a sacred glow similar to religious structures. "The structure's central oculus emits a single source of light to create a sanctuary of reflection, refuge and togetherness," a gallery spokesperson said.
Gates said he considered light more than potential rain when designing the open-air oculus, though a downpour could add another atmospheric and acoustic layer to the drum-shaped pavilion.
Outside stands an operational bronze church bell salvaged from a Catholic church that once stood in Chicago's South Side. Ringing the bell will announce performances and activities taking place in the space.
The inspiration for the form comes from Gates' work with ceramics and the artist's ongoing engagement with the concept of 'vessel' is detectable in the form.
The 2022 pavilion design was unveiled in February and the pavilion will officially open to the public on July 10. The black chapel has been activated for the summer and will host a program of events and performances before moving to a permanent location in the fall.
Previous commissions have included designs from Selgas Cano, Junya Ishigami and Bjarke Ingels Group.