Rhode Island Design Award 2021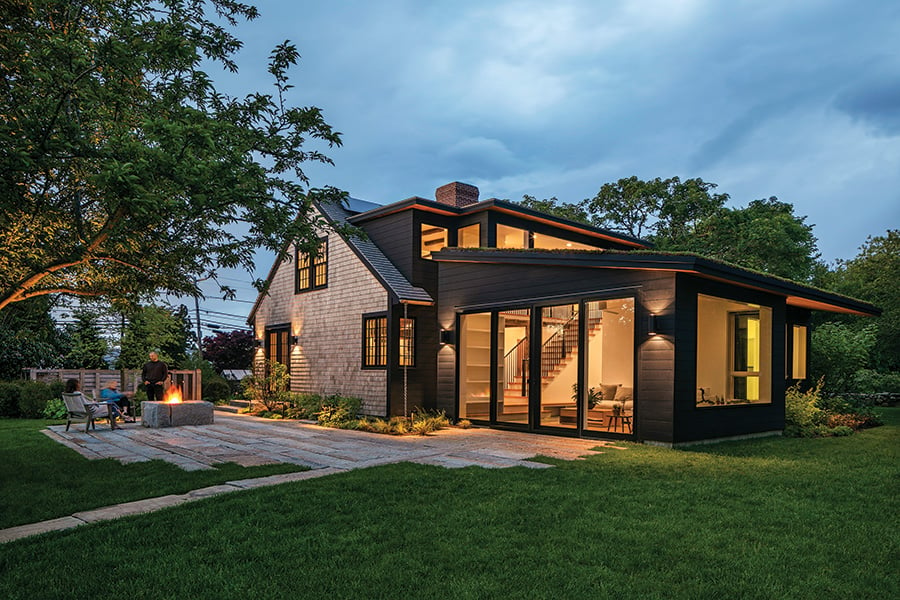 [ad_1]
Scroll through this year's winners and see perfect homes, from a converted power station to a three-century-old farmhouse.
The Design Awards feature is one of our favorites, and this year's nominations from the state's incredible architects and designers remind us once again. Our Massachusetts judges – Tracy Marquis of Marquis Architecture in Watertown, Damon Sidel of Mix Design and Development in Somerville, and Justine Sterling, who runs her own design business in Melrose – were also impressed. They pored over dozens of entries, debated their choices, and came up with their list of stars. "Beautifully Done", "Clever" and "Fantastic Job" are just a few of their kudos. Here are the 2021 Design Awards winners!
New residential construction – Design Star
Modern family
This Waterfront Home is a study on how to successfully merge the needs of a multigenerational family while paying homage to the natural environment. Twin gables create separate spaces for privacy but are connected by rooftop terraces, and a spacious open-plan ground floor offers postcard views of the nearby pond. The judges complimented how the reclaimed asymmetric beams define separate spaces for the living room, kitchen and dining room, adding warmth to a traditional interior. The use of natural oak wood, green marble and blue slate brings to the interior a harmonious sense of nature. The exterior materials – yellow cedar, blue stone and granite – will age in place and become more beautiful over time. "It's a modern, welcoming beach house that you can read and understand at first glance," was the verdict.
Architect: Studio Hearth Architecture and Design, Joseph Combs and Erin Hunter
Service provider: Jacob Talbot Fine Home Builders
Structural engineer: Siegel Partners
Landscape architect: Martha moore
Interior design : Hearth Architecture and Design Studio
Photography: Anthony Crisafulli
---
New residential construction • Distinction Award
Just chillin '
A nostalgic visit east of empty Chicago-based nests turned into an 'aha' moment when they spotted a 1970s ranch for sale across from their grandmother's house in Narragansett. The nondescript little house needed replacing, but, oh, those ocean views. It was time to leave Windy City, they realized. Project architect John Tumino cleverly integrated the couple's mid-century modern design style with the more traditional waterfront neighborhood vernacular to give homeowners the clean look they wanted. The judges were blown away by everything about this project, from the attention to exterior and interior detail, to the gray and white color scheme. The result? A peaceful and relaxed retreat that encourages us all to breathe out.
Project architect: John Tumino, DiMauro Architects
General contractor : Kinsella construction company
Interior design : Kirby goff
Landscape architect: Place the workshop
Photography: Anthony Crisafulli
[ad_2]