Popular houseplants – 14 houseplant trends for 2022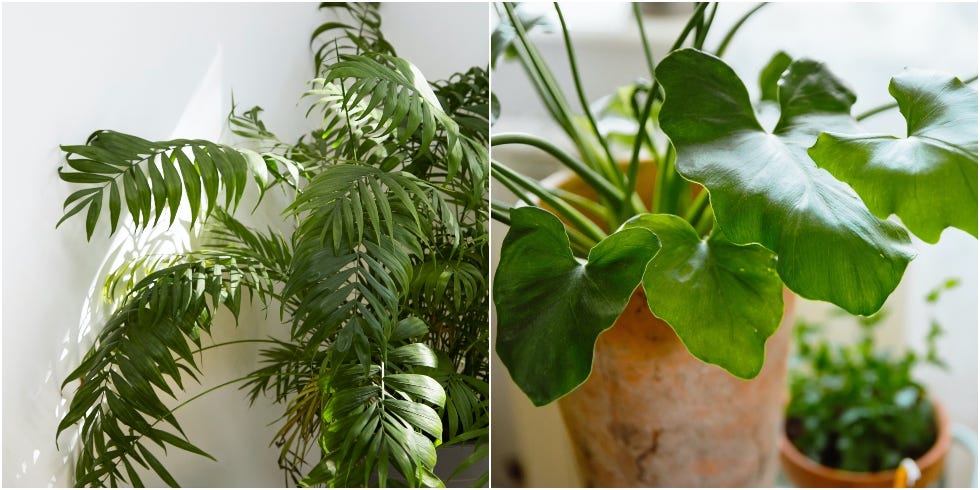 Indoor gardening is more popular than ever, so it's no surprise to see houseplants continue to grow in popularity. If you're looking to create your own jungle at home (or need a new Zoom backdrop), then a few plants to have on your radar for 2022 include the Areca palm, pineapple plants, and bromeliads.
"Not only do houseplants enhance the aesthetics of our homes by softening spaces and highlighting feature accents, but studies show that they promote a range of emotional, physical and mental health benefits, from purifying the air to increasing productivity as well as creativity, and reducing stress," says Beth Chapman, founder of designer plant brand Leaf Envy.
Whether you're a parent of pandemic plants or a horticulture enthusiast, we've researched the most popular indoor plants for 2-2022.
Advertising – Continue Reading Below
1
Kalanchoe
These thick-leaved succulents are set to rise in 2022, with Primrose's Garden Trends report discovering a 454% increase in searches for the plant. If you're looking to brighten up your home and garden, consider these long-lasting plants.
"Buyers are looking for more colorful houseplant options to add to their homes," Primrose said.
2
Alocasia Silver Dragon
As demand for houseplants skyrocketed last year, Leaf Envy predicts more Britons will be looking for unusual varieties to add to their collections, such as the striking Alocasia Silver Dragon, a beautiful plant with silvery green leaves and dark veins. Do you already have one in your collection?
BUY NOW VIA LEAF ENVY
3
Pineapple plants
Pineapple plants (pineapple comosus) are among the trendiest houseplants of 2022, renowned for their spectacular foliage, large leaves, and air-purifying qualities.
"With plenty of interest in transitioning from ornamentals to edibles, these satisfy those looking for more from their houseplants and certainly provide a talking point too," Thompson & Morgan tell us.
BUY NOW VIA THOMPSON & MORGAN
4
Extra large indoor plants
This year it's all about making a statement, with Leaf Envy predicting that many of us will go big with our houseplants. Extra large varieties, from the fiddle leaf fig tree to the Swiss cheese plant, will be on the program.
"With more people looking to transform their homes through nature, we predict that next year indoor plants or trees will be a prominent feature in home decor," says Beth of Leaf Envy.
BUY NOW VIA LEAF ENVY
5
Strelitzia (bird of paradise)
Tropical plants are also on the rise, with Primrose reporting that Strelitzias (bird of paradise) have increased by 179% in research data. With bright architectural blooms, they are the ultimate head-turner.
"As summer vacation has been a distant memory for most of us for the past couple of years, it's no wonder tropical plants are taking over homes this year," says Primrose.
BUY NOW VIA PRIMROSE
6
areca palm
Keep houseplants with lush leaves on your radar for 2022. According to Primrose, searches for Areca palms have increased by 177% thanks to their tall, attractive leaves. Native to the humid tropics of Madagascar, these houseplants like warm spots in bright, indirect light.
BUY NOW VIA PRIMROSE
seven
Philodendron Birkin
Philodendron Birkin, which has dark green leaves, is the newcomer to popular houseplants. With brilliant air purifying qualities, it is perfect for those who want to add a breath of fresh air into the home.
Beth adds, "With air pollution being five times worse indoors than outdoors, the beauty of houseplants goes beyond aesthetics."
BUY NOW VIA LEAF ENVY
8
Indoor foliage plants
"Indoor plant sales in 2021 are up 41% and more than half of the growth is from foliage plants," says Duncan Mclean, Senior Plant Buyer at RHS. '
Foliage houseplants of the widest variety will also be particularly popular.
BUY FOLIAGE HOUSE PLANTS AT THOMPSON & MORGAN
9
parlor palm
The Parlor Palm remains a firm favorite. With Primrose discovering an increase in low-maintenance houseplants, expect to see the Parlor Palm in more homes this year (and more Zoom decors). With its dark green foliage, it's the ultimate way to bring the outdoors in.
BUY NOW VIA PRIMROSE
ten
Philodendron 'Shangri La'
Create a lush jungle feel in your home with Philodendron 'Shangri La' – a showy plant with large, heart-shaped leaves.
"With foreign travel being limited, everyone wants to be taken somewhere tropical, so it's no surprise that everyone wants to create a dramatic little jungle in their home that's reminiscent of a faraway place," Thompson says. & Morgan.
BUY NOW VIA THOMPSON & MORGAN
11
Cast iron plant (Aspidistra elatior)
Looking for a hard-to-kill houseplant? Consider picking up the Cast Iron Plant (Aspidistra elatior), which has the ability to thrive with very little care. Perfect for those with a busy lifestyle, Primrose says it will be a popular houseplant choice for new and experienced plant parents.
BUY NOW VIA CROCUS
12
Bromeliads
Bright and cheerful, the easy-to-grow Bromeliad houseplant is another plant to have on your radar. With a 43% increase in Google searches according to Primrose, 2022 will see many of us bringing this colorful and long-lasting plant into our homes.
13
Alocasia
The Alocasia plant, famous for its highly veined leaves, is a truly impressive species. According to Primrose's Garden Trends report, it's another popular houseplant for 2022.
"Surrounding your home with lots of leafy houseplants is a great way to reconnect with those tropical places while enjoying the other benefits of plants, like better mood and air quality," adds Evie.
14
Money tree (pachira aquatica)
Give your home a tropical touch with the beautiful Money Tree (aquatic pachira). With its braided stem and bright green, palm-like leaves, you can be sure it will elevate your space (even if it won't make you money).
BUY NOW VIA BLOOM & WILD
To follow Beautiful house on Instagram.
This content is created and maintained by a third party, and uploaded to this page to help users provide their email addresses. You may be able to find more information about this and similar content on piano.io
Advertising – Continue Reading Below