New York landmarks tour by prankster artist Iván Argote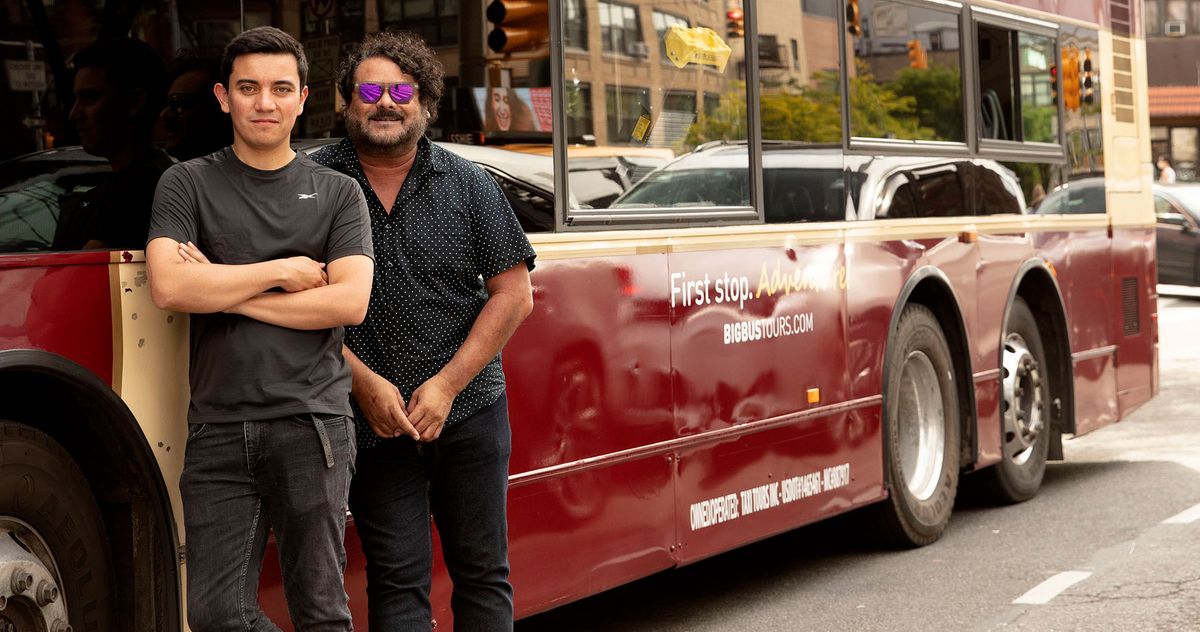 Iván Argote and Commissioner Julio César Morales.
Photo: Guillaume Ziccarelli / Courtesy of Perrotin and Iván Argote
"My performances aim to show that public spaces are actually not that public," says artist Iván Argote, dodging overhanging tree branches from the top of a double-decker tourist bus. The Paris-based Colombian takes a tour of several "interventions" he has made on problematic urban statuary as part of a show he presented at Perrotin entitled "A place for us", Which documents similar changes he made to monuments in Bogata.
He has previously monuments dressed as Spanish conquerors in ponchos or hidden bronze replicas of "discoverers of the new world" behind mirrors. For his series of photographs "Horses"In 2011, he digitally removed George Washington from his monument in Union Square and Henri IV from his on the Pont Neuf in Paris. The photos show their horses alone on the pedestals. The centerpiece of the current show is its installation Wild flowers, who transforms casts of torsos, hands and feet from the George Washington monument on Wall Street into planters; there's also a large wall drawing of a figure of a politician – it could well be Donald Trump – who slipped in the shower.
A doe-eyed, soft-spoken thirty-something, Argote has generally found his way by performing on public monuments without any permission. His explanation to the police officers who approached him as he was putting a poncho on the Don García monument in Madrid in 2012 was simple: "He must be cold, so I put a poncho on this guy. He and his friend, curator Julio César Morales, hosted the tour. They began by speaking of "radical tenderness," which is a term Argote uses for his acts of leaving subtle but striking accents on monuments. "There is a way to be critical but not necessarily to get into the realm of confrontation," he said.
Our first stop was the widely despised Teddy Roosevelt monument at the Museum of Natural History, which depicts him on horseback with two anonymous men, an African and a Native American, walking beneath him. Even Roosevelt's descendants are on board with the removal of the monument, and the city's Public Design Commission recently approved its move. In the meantime, the museum has added a plaque that addresses the controversy by highlighting the two polarized views on what is depicted: "a heroic group" or "a symbol of racial hierarchy". The demonstrators covered the three men with a parachute and soaked the plinth with blood red paint; Argote was more subtle. Amidst museum visitors and selfie enthusiasts, he and Morales stuck another receipt on top of the museum's, asking, "What about the other two men?" Who are they? What are their names? "We slowly walked back to our bus, wondering if the sticker would stay there for hours, days, or months.
On the way to our next stop, Argote told us about growing up in a political family in Bogotá. Her father was part of a revolutionary group that later created a leftist party. A film student, he used to sing in the streets of Bogotá with his group and climb monuments, like that of Simon Bolivar in the city center, drunk. Then he didn't yet know that it would be his practice in less than a decade. In his early twenties, he won an art award that partially covered his MFA in Paris. His thesis project showed him false– spray paint on two Mondrian paintings at the Center Pompidou. He filmed himself approaching the paintings with a tin can and then digitally added zigzags to them. The modest provocation caught the attention of dealer Emmanuel Perrotin, who signed it at 25. Argote, who is a bit of a joker, used to tell Perrotin to introduce him as his salsa teacher.
Next stop: the statue of Columbus near Central Park. When he informed the officer of his intention to put a poncho on Columbus the next day, the officer told him that he was free to do so but would have to arrest him then. Instead, we had a recital: a guitarist who was with us started playing his instrument, and we all sang a song that Argote wrote: "Oh, Christopher, I want you poncho, but they won't let me do it / I know you want your poncho / I'm from the land of Columbus you've never visited / Oh, Christopher, we know you want to have your own poncho. Argote and Morales then offered the police pastries.
The last stop was in front of the Trump Tower on Fifth Avenue. In an ironic dedication to the former 45th president, Argote dropped a bar of generic white soap in front of the tower. He also gave each of us a bar as a souvenir. A woman on the tour who initially spoke to her friend about organizing an NFT exhibit awkwardly made a "drop the soap in jail" joke. No one heard it, I think, except me.