LPA wins top national education design award for second year in a row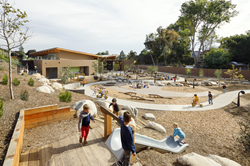 "We would not have been able to achieve these results without a collaborative process including educators and the community.
IRVINE, Calif. (PRWEB)
June 16, 2021
For the second year in a row, the integrated design firm LPA Design Studios received the industry's highest national award for educational facility design.
The American Institute of Architects (AIA) Committee on Architecture for Education (CAE) presented LPA with an Award of Excellence as part of its annual Educational Facility Design Awards for the Environmental nature center – a net zero LEED Platinum installation in Newport Beach, California. ENC Preschool, which was honored last year with a national AIA COTE Top Ten award, the industry's highest honor for sustainable design, provides nature-based education to children aged 2½ to 5 years by perfectly mixing indoor and outdoor spaces.
ENC Preschool was one of six projects selected nationally for the Award of Excellence. In 2020, LPA received the award for the expansion of the campus of Tarbut V'Torah Community Day School, an independent K-12 school in Irvine, Calif., focused on a student-centered curriculum.
Both projects were developed using LPA's unique integrated design approach, which includes in-house engineers, landscape architects and interior designers early in the process.
"We would not have been able to achieve these results without a collaborative process that included educators and the community," said the CEO of LPA. Wendy roger. "We are honored to be recognized at this level and to support the goals and standards of the Committee on Architecture for Education.
LPA's design for the Environmental Nature Center focuses on cost-effective passive controls, including building orientation and natural ventilation. Classroom spaces are open, flexible and open to the outdoors. A tricycle trail connects three distinct outdoor areas, each named after a national park: Sequoia, Joshua Tree, and Yosemite.
"This project is both a dynamic learning center and an example of the enduring values ​​it teaches," said the AIA CAE jury.
The jury specifically cited the project to integrate biophilia and 'child-centered spaces that support play-based and hands-on learning', as well as LPA's support for the Design Excellence Framework. AIA, including sustainability, resilience and inclusion.
"This project is a great example of how to apply the Design Excellence Framework to a small space," said the AIA jury. "This space is well integrated and serves an extremely impactful mission. "
To date, the Environmental Nature Center and Preschool has won 19 other local, state and national industry awards, including honors from the engineering and landscape architecture industry associations.
"Working with LPA has been a great collaborative process," says ENC Executive Director Bo Glover. "The emphasis has always been on sustainability, energy efficiency and our mission to create an effective nature-based learning environment for children."
The Education Facility Design Awards recognize designs that enhance learning in the classroom; balance function with aesthetics; establish a connection with the environment; are respectful of the surrounding community; demonstrate high level planning in the design process and integrate sustainability holistically.
About LPA Design Studios
Founded in 1965, LPA specializes in creating innovative environments that work better, do more with less, and improve people's lives. An integrated design firm with six locations in California and Texas, the LPA team includes more than 400 in-house architects, planners, engineers, interior designers, landscape architects and research analysts, working across a wide range of industries. For more information visit lpadesignstudios.com.
Share the article on social media or by email: