Live-fire steakhouse will occupy historic building on Allen Parkway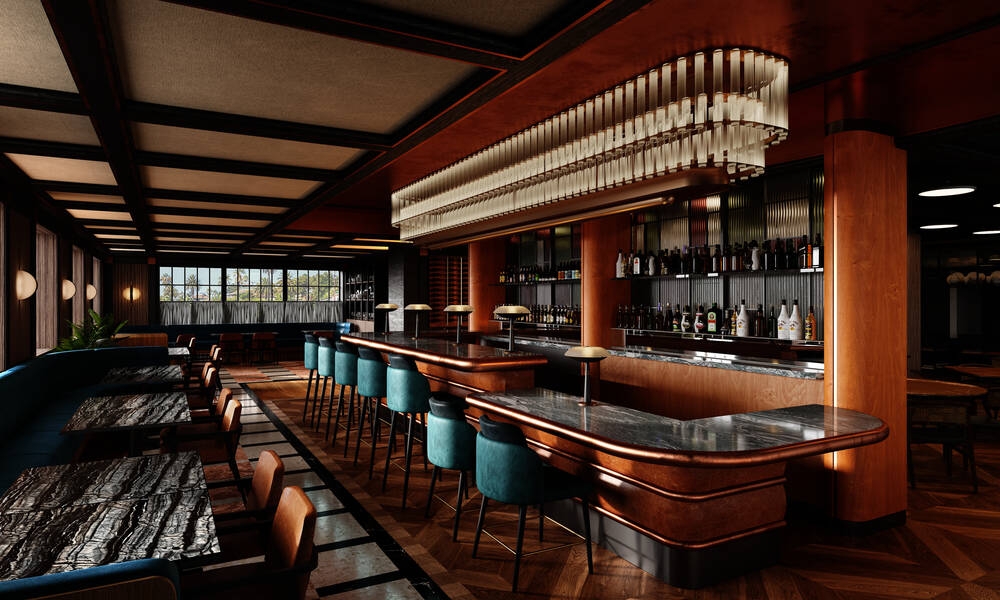 Plans for Andiron include a dining room and bar / lounge that can accommodate 110 people. (Courtesy AvroKO)
The modern Andiron Wood steakhouse arrives at Allen Parkway after officials from Sambrooks Management Co. rented space there in late July.
Sambrooks, the company behind other Houston-area restaurants such as The Pit Room, 1751 Sea and Bar, and Candente, plans to offer a concept that will include a dining room and bar / lounge seating 110. people as well as a covered patio. with an outdoor bar and lounge seating an additional 75 people, according to a July 29 press release. The restaurant will be located in a historic building at 3201 Allen Parkway, Ste. E110, Houston, across from The Gordy, a new theater operated by Stages Theater.
The building originally served as the Star Engraving Co. Building and also housed the Houston Children's Museum and the Stages Theater, before The Gordy was built. Random Capital recently redesigned the site.
"We will combine our smoking and wood-fired grilling skills from The Pit Room and Candente with our experience as chef at 1751 Sea & Bar," owner Michael Sambrooks said in a statement.
The menu will feature dishes diners expect from a traditional steakhouse, prepared with real fire cooking techniques, while also offering modern small-plate options.
Hotel interior design firm AvroKO will lead design efforts alongside local architect Kevin Tietz of Phillip Ewald Architecture.
The new restaurant will share access with the Stages Theater to a 300-space car park.
No opening date has been announced.