HOPE welcomes Hawkins County native as featured speaker | Sunday stories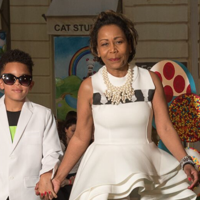 KINGSPORT — Hawkins County native Lesa Patte, a bespoke couture designer in Charlotte, North Carolina, returns home this week to be the featured speaker for the HOPE Black History Award program.
The program, during which HOPE (Help Our Potential Evolve) will present its annual awards, will take place on March 5 at 7 p.m. at the Renaissance Center in Kingsport.
Patte will speak and present a mini fashion show of her work. There will also be a performance by Devoted.
Admission is free and everyone is invited.
Patte produces unique ready-to-wear, ceremony, competition and costume designs for all ages. Her designs have been featured on catwalks across the United States and will be presented next year in Paris and Italy, as well as New York, Miami and a host of shows throughout the Southeast.
Although she spent much of her career as a sales representative in the chemical industry, Patte found her heart's desire in fashion.
Patte's Promise Clothing was born out of a desire to create children's clothing for the unique child with mature taste. The line quickly caught on with more mature audiences and she began designing for weddings and unique events of all kinds. From prom dresses to rainwear, she works closely with each client to provide them with a design that encompasses their personalized style.
The company is committed to a sustainable platform, seeking to reduce waste by recycling fabrics and designs wherever possible.
Promise models are hand-selected by the designer, not necessarily based on their proven talent in runway or print modeling, but to help the individual achieve the level of self-confidence necessary to appreciate their worth. personal in the eyes of its creator.
The promise is not just about fashion; it is largely a ministry.
The name "Promise" is derived from Patte's strong connection to his personal faith. This is the Creator's promise for every person, regardless of race, gender, or physical difficulty, to have an abundant life.
John 10:10, which says, "I came that they might have life and have it abundantly," guides his enterprise.
The Promise hashtag, "#itstime", has become the company's vision and embodies the essence of the company. He stresses that it's time for fashion to appreciate every body type, every race and every physical challenge, to bring inclusion to fashion and encourage every model to love who they are… where they are.