Frank Lloyd Wright: Visit of the iconic sites of the famous architect | Chroniclers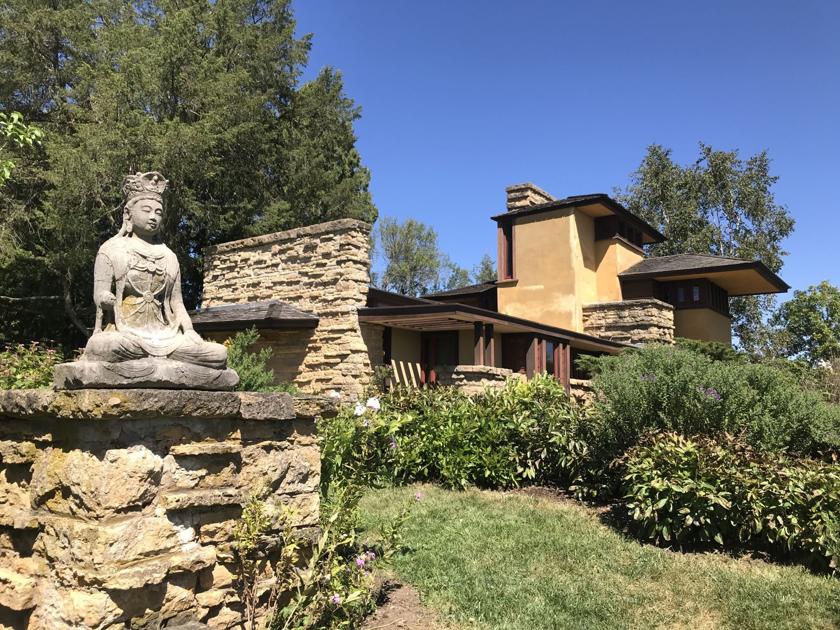 The Wisconsin Hills, the Arizona Desert, a Pennsylvania Nature Preserve, and the Upper East Side of Manhattan are the setting for some of Frank Lloyd Wright's most significant accomplishments.
America's greatest architect designed more than 1,000 structures and completed more than 500 works during his career that spanned seven decades.
My wife and I visited Wright's studio and neighborhood in Oak Park, Illinois; his private homes in Spring Green, Wisconsin (Taliesin) and Scottsdale, Arizona (Taliesin West); Fallingwater in Pennsylvania; and the masterpiece of the Guggenheim Museum on Fifth Avenue, New York.
Born June 8, 1867 in Richland Center, Wisconsin, to a farming family in Wales, he studied civil engineering at the University of Wisconsin. He then did his apprenticeship in Chicago with architects. He opened his own practice in Chicago in 1893 and established a studio in his Oak Park, Illinois home in 1898.
A pioneer of what has come to be called the Prairie School architectural movement, Wright also developed a vision for town planning that included 41 commissions.
Over the years, he has designed private homes, offices, schools, churches, banks, skyscrapers, hotels, museums, and other commercial projects in 36 states. He spent six years (1915-1922) working on the Tokyo Imperial Hotel, renowned for its earthquake-resistant load-bearing structure. He also designed interior components, including leaded glass windows, floors, furniture and tableware.
He wrote 20 books and was a well-known speaker in the United States and Europe.
Of the hundreds of projects he created during his lifetime, almost a third of them were conceived in the last decade of his life. Wright died on April 9, 1959 in Phoenix, Arizona. He was 91 years old.
Wright's work is considered one of the best truly American architectures. Eight of his major works are on the UNESCO World Heritage List. They include the sites we visited. Here are some highlights.
Oak Park, Illinois
Oak Park, a western suburb of Chicago, is home to the largest collection of buildings designed by Frank Lloyd Wright.
In 1889, at age 22, Wright married Catherine Lee Tobin. Wright bought land in Oak Park and built his modest home for his family, which ultimately included six children.
Wright began his own practice in 1893, moving it to his home, which he expanded in 1895 and 1899, adding a drawing studio and reception hall.
His studio became a training ground for Prairie-style architects, which emphasized open spaces and shallow, sloping roof lines. Together, they created some of his most famous buildings in the neighborhood, Unity Temple (1908) and Robie House (1909).
We have been to Oak Park three times. On our last visit with our overseas student, we took the one hour home and studio tour. We then purchased a map from the gift shop which allowed us to view our own various Wright sites in the neighborhood from the adjacent sidewalks.
There is also a guided walking or bus tour that covers nearly a dozen homes on Chicago and Forest avenues and on Elizabeth Court.
Taliesin, Green Spring, Wisconsin
Taliesin is the home, studio and school on the entire 800 acre estate that Frank Lloyd Wright built in 1911. The hill was one of his favorite places he remembered as a child.
Wright was reportedly "creatively exhausted and emotionally agitated" at the end of 1909 when he left his wife and family for an extended stay in Europe with Mamah Borthwick (Cheney), a client who had been his mistress. for several years.
That same year, Wright and Mamah returned to the United States where he began construction on Taliesin. There he also resumed his architectural practice.
In August 1914, Mamah, her two children and four others were killed in a fire in Taliesin, deliberately started by a deranged domestic worker from Taliesin. Devastated by tragedy, Wright was able to find solace in rebuilding Taliesin in memory of Mamah.
In April 1925, an electrical fire destroyed the living quarters again. Wright used his 40 pencil study sheets for the construction of Taliesin III.
Taliesin, named after a Welsh bard whose name means "shining forehead," is an hour's drive from Madison, Wisconsin, and three and a half hours from Chicago.
The two hour walking tour of the scenic rural estate is excellent. The first stop is the 5,000 square foot drawing studio which includes an expansive meeting room, community dining room, and theater. Then the shuttle driver stops at the Taliesin house. The guide offers intimate details about Wright's personal studio, living room, guest bedroom, and bedrooms for Wright and his wife.
Wright left Taliesin and the estate to the Frank Lloyd Wright Foundation upon his death. Taliesin today operates primarily as a museum, however, it is still occupied by students from the Taliesin School of Architecture on a seasonal basis.
Taliesin West, Scottsdale, Arizona
Wright tired of the long winters in Wisconsin and in 1937 built Taliesin West, north of Scottsdale, Arizona. His home and studio were his laboratory until his death in 1959.
Taliesin West is considered one of Wright's most personal creations. He painstakingly handcrafted it for many years, connecting it to the desert. Some consider it to have an "almost prehistoric grandeur". Wright called it "a look at the edge of the world".
Taliesin West is open year round, but closed on major holidays. Guided tours and self-guided audio tours are the only way to visit the site. You cannot enter the property unless you are on an official visit or attending an event. Advance online ticket reservations are required for all tours.
We took the classic 1 hour group tour, led by an excellent guide. We visited Wright's private quarters and living room, the garden room, the drawing studio, the music pavilion and the cabaret.
The on-site gift shops offer books, home decor, clothing, and art.
Fallingwater, Mill Run, Pennsylvania
Fallingwater is the much-loved home designed in 1935 by Wright for the Kaufmann family, owners of Pittsburgh's largest store. It illustrates his philosophy of organic architecture – the union of art and nature.
Wright was thought to be in the twilight of his career when he created Fallingwater. At the age of 67, he was commissioned to build their weekend house. The site he chose was not where the Kauffmanns expected – across from the falls on their property. Instead, he chose to build directly on the falls. In Wright's mind, the family could not only see nature, but live within it.
The house, about 90 minutes from Pittsburgh, is considered an architectural marvel. It was designated a National Historic Landmark in 1966. In 1991, members of the American Institute of Architects named Fallingwater "the all-time best work of American architecture."
When we visited the house in May, the visit was still limited due to issues related to COVID-19. We had an in-depth exterior tour, but only saw the main floor interior of the main house and parts of the upper guesthouse.
The setting of the house is breathtakingly beautiful. Seeing the structure from different angles, one gets the impression that it is really part of the landscape and that it interacts with it.
Guggenheim Museum, New York
Frank Lloyd Wright was commissioned to build the Solomon R. Guggenheim Museum in New York in 1943. The stipulation of the museum's co-founders was that "the building should be no different from any other museum in the world."
Wright succeeded with the Guggenheim. It is considered the crowning achievement of his career. It opened in 1959, six months after Wright's death.
Its radical design concept includes a spiral ramp, which resembles an hourglass. The open rotunda allows spectators to view artistic work from different levels simultaneously.
At the suggestion of friends, at the entrance we climbed the seven floors of the Guggenheim and visited the museum from the top floor down. With our 5 year old granddaughter, we enjoyed "A Year with Kids 2021," which features selected artwork by elementary school students in New York City. My favorite area was the exhibition of famous European impressionists.
The Guggenheim is adjacent to Central Park; there are plenty of outdoor cafes available in the stylish Upper East Side.
For architectural beauty and inspiration, consider visiting one or more of Frank Lloyd Wright's best-known sites.