Find out who is attending the Houston Restaurant Weeks in Rice Village, Meyerland areas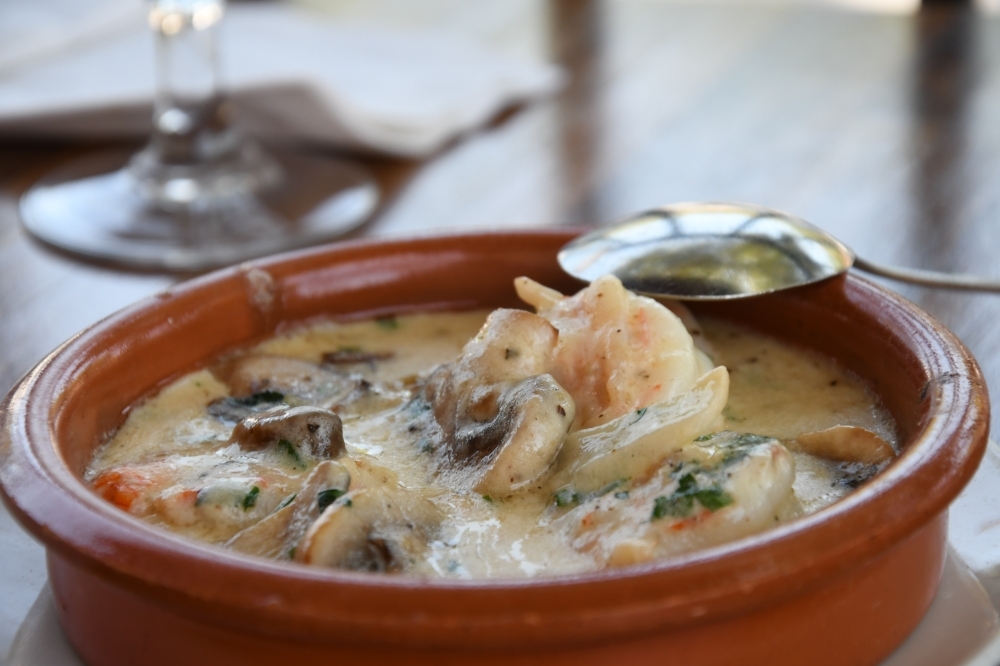 El Meson offers giant gulf shrimp and mushrooms served with a white wine cream sauce. (Hunter Marrow / Community Impact Journal)
The annual Houston Restaurant Weeks fundraiser is back this year from August 1 to September 6 with over 200 restaurants included in its lineup announced on July 15.
Founded in 2003, Houston Restaurant Weeks collects contributions for the Houston Food Bank, as participating restaurants donate based on the number of meals they sell from a menu specially designed for the event. Many places will offer take out and delivery options.
Below is a list of participating HRW restaurants in the Galleria / Uptown, Rice Village and Meyerland regions.
A list of participating restaurants in the Heights, River Oaks and Montrose areas is available here. The complete list of participants is available here.
Casa Do Brazil
2800 Sage Road, Ste. A100, Houston
713-485-4575
Etoile kitchen and bar
1101 Uptown Park Blvd., Ste. 11
832-668-5808
King Ranch Texas Kitchen
1605 Post Oak Blvd., Houston
832-427-3049
Table
1800 Post Oak Blvd., Houston
713-439-1000
McCormick & Schmick's
1151 Uptown Park Blvd., Houston
713-840-7900
Morton's Steakhouse
5000 Westheimer Road, Ste. 190, Houston
713-629-1946
Peli Peli South African cuisine
5085 Westheimer Road, Houston
281-257-9500
Piatto Ristorante
4925 W. Alabama St., Houston
713-871-9722
Post Oak Grill
1415 S. Post Oak Lane, Houston
713-993-9966
Annie cafe and bar
1800 Post Oak Blvd., Ste. 6170, Houston
713-804-1800
The Oceanaire seafood room
5061 Westheimer Road, Houston
832-487-8862
Salt grass
520 Meyerland Plaza, Houston
713-665-2226
Cafe Rabelais
2442 Times Blvd., Houston
713-205-6647
Common Bond bistro and bakery
2278 W. Holcombe Blvd., Houston
346-327-8393
The Tex-Mex cuisine of Cyclone Anaya
5214 Morningside Drive, Houston
713-523-3600
Spanish restaurant El Meson
2425 University Boulevard, Houston
713-303-6050
Roma Ristorante
2347 University Boulevard, Houston
713-664-7581