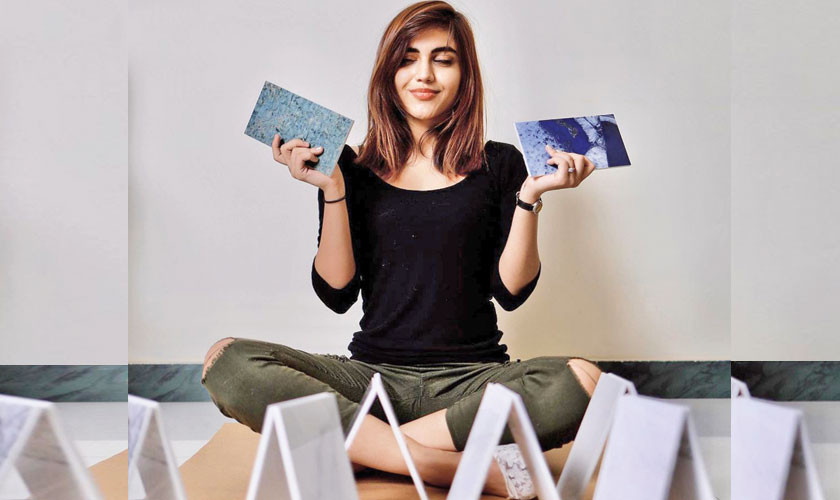 Ddesigner Imaintenance
"I often blur the lines between architecture and graphic design," says Purnia Farrukh, a passionate and original designer whose work is acclaimed for its abstraction, formal clarity and minimal designs. Purnia received her professional training from California Polytechnic University, Los Angeles, California; she holds a bachelor's degree in architectural design. In addition, she has two years of graphic design training at Sabanci University in Istanbul, Turkey. Purnia mainly creates logos, business and brand identities for businesses based on their architectural design and their business interiors based on their brand identity. Purnia believes in the cohesion of brands and companies between 2 and 3 dimensions. This week you! talk to the aspiring graphic designer to give you an overview of everything from her design process to upcoming projects …
You! Is designing something you've always wanted to do?
Purnia Farrukh: My passion comes from curating and conscientiously monitoring design and studio accounts on social media platforms that are pioneers of the latest design trends internationally. I went to architectural design school, but ended up gaining a lot of appreciation for graphic design and user interface design through social media and international design competitions that I continued to do. participate throughout college. This allowed me to appear in a few design magazines such as MindSparkle Mag, DAWN, DesignCentral, Designers BookShop, etc.
You! Tell us about your business, Itereight:
PF: Based in Karachi, I started Itereight in 2020 on an experimental basis and it immediately turned into my full time job. Itereight is a unique domain name derived from the mathematical function Iterate. It's my take on design and function and how I approach and conceive of issues.
You! How many brands have you worked with?
PF: I'd say there are almost 40 now, ranging from large corporations to small-scale Instagram lifestyle brands like Google, Xanders, Lals, Moori Drinks, Fusion Teas, Inclusivitee, etc. based in Pakistan and abroad. And the list just keeps growing every week.
You! Tell us about your very first project:
PF: Early projects were mostly my passionate projects being a student at an architecture school in Los Angeles, I mostly introduced myself to brands and companies and was trying to build that reputation and portfolio. It was worth it. A few projects I worked on initially were branding, signage, and menu design for a few restaurants in Beverly Hills, Los Angeles and being at the center of all of the forward-thinking niche brands in LA has me definitely given a head start to explore this world and bring it to Pakistan.
You! What project did you prefer to work on?
PF: My favorite project to work on so far was to design the small-scale niche candle company, "ScentsOnFire"; fingers in the nose. The reason was that the owner of the business gave me 100% creative freedom and trusted me with his investment, which allowed me to produce a concept and execute what looked like nothing that the candle market saw in Karachi and a lot of candles. businesses have followed suit. I believe when a designer has the freedom to create, that's when the best work is created.
You! What part of the design process is the most exciting for you?
PF: For me, it's when I start something, research and set the initial tone for the brand or company.
You! What areas of product design are often overlooked?
PF: I can speak for the local Karachi market right now. I think brands and companies don't understand or implement sustainability in their production and that seems ethically incorrect to me and sadly backwards. I always advise my clients to look ahead and try to get them all to use sustainable packaging and civilian materials to make design a conscious and knowledgeable choice.
You! What is your typical day as a product designer?
PF: I can promise you it's a mix of communications, marketing, accounting, photography and design. With a whole load of studio time and sampling, working closely with suppliers, deciding on materials, scale, placement, layout, production, proofreading, etc. , ensuring that the BOQs (bill of quantities) are aligned and that payments are made.
You! Do you agree that locking put more than one microscope on the design?
PF: People are spending more time on their phones and on social media. Brands are making their presence felt online, on social media and now with the current introduction of Amazon in Pakistan, many brands need to embrace forward-thinking branding, Instagram-friendly and niche designs to attract the market. local audience rather than retail. spaces which, in turn, make branding and implementation even more important.
You! What do you like the most; product design or interior design?
PF: I like both because my expertise is to combine the two under a singular and cohesive brand guideline.
You! In terms of design, what is your signature style according to you?
PF: I don't believe the client is telling me how to design, I consider their limitations and apply my expertise to what they need to solve the design challenge and ultimately make sales. But I'm a big fan of design styles that involve hipster, avant-garde, bourgeois masculine styles, and vintage 80s pop art style. Nowadays we see these trends evolving in conjunction with branding logos and packaging. more typographic style.
You! What progress do you see the design industry in Pakistan?
PF: I am lucky and lucky to be part of the design wave in Pakistan. I hope to see more young designers take the initiative and take the power to create new styles and get more exposure to marketing and design internationally. Having this exposure is super important. Following all of the best studies, magazines and brands in the world, online and physical makes a difference.
You! What would you say has been your accomplishment so far?
PF: I would say that would be finding something that I really enjoy and making a career out of it, and contributing to the Karachi design landscape, as a young designer, and making waves.
You! How to reconcile professional and private life?
PF: If you don't plan your work schedule and prioritize your mental and physical health, you won't create a good job and work your hardest. I learned it the hard way.
You! Do you think you must have worked harder as a woman in this industry?
PF: No. I have been very lucky to be at the center of changing times in Karachi, Pakistan where there are so many creative and strong women who are able to bring about change, do a good job and start new businesses. that I feel extremely lucky to be a part of the flood. And I'm extremely proud of the supportive men in my life who believed in me and offered their support when I started, like my dad.
You! What are your future plans?
PF: I intend to continue this momentum; get a lot more experience and do projects that turn people's heads and disrupt established design trends and create cool stuff.
You can find Purnia's work on her Instagram: @itereight and her website for more details: https://www.itereight.com/