Deisgn Philippines brings bold and youthful energy to home and object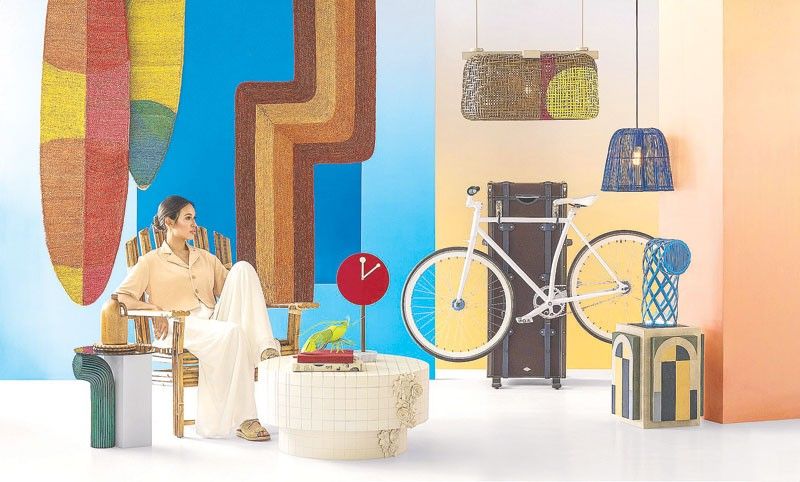 The last time we were on the Philippines booth at Maison & Objet Paris was in 2019, before the pandemic, when its clean look and the purity distilled in product design stood out and caught the attention of consumers. buyers and the media.
Two years later, the world is a whole different place, but CITEM guided Design Philippines to adapt wonderfully, bringing fresh and vibrant energy to MOM (Maison & Objet and More), the premier digital platform of the design fair. and the art of living.
The Philippines' first participation in the digital fair in 2020 has already been a huge success, catching the attention of professional buyers and creators of design tastes. "It also caught the attention of the Pantone Color Authority and the WGSN Trend Prediction Authority, where it landed on the cover, as well as four of the eight trends featured," explained the executive director of the CITEM, Pauline Suaco-Juan.
While there was a 44% decrease in spend for digital participation compared to physical participation, there was a 10% increase in sales, thanks to 24/7 online availability. which also made it possible to discover the products for new buyers and markets. Last year sales reached $ 3,183,647.92, while January through June 2021 grossed $ 1.26 million. Filipino showrooms were visited 22,000 times in less than four months in 2020 while this year MOM buyers have already visited 21,000 times.
A good start for MOM September 2021 is the distinction of two Filipino products – Zarate's Check Bench and Finali's Fiori Lamp – as two of MOM's best.
Rita Nazareno and Gabby Lichauco de Nazareno / Lichauco, Creative Directors for Design Philippines (where they curate products from existing collections through a list of exporters) and Kindred Design Collective (where they develop and design products with a select group of exporters ) since the 2019 M&O and MOM 2020, have outdone themselves for the current MOM.
Drawing inspiration from the show's theme 'Desirable Development', which emphasizes the consumer's appetite for products with 'human touch', a sense of spirituality and sustainability, they 'further highlight the craftsmanship and local techniques and materials used by our Filipino manufacturers to bring a more contemporary, even spiritual, touch to their creations.
They came up with their own theme, "In Any Kind of Place", inspired by Gertrude Stein's poems "Tender Buttons", with sections titled Objects / Food / Rooms. Stein's experimental use of language, dubbed verbal cubism, "gives words a weirdly new intimate flavor and at the same time makes familiar words almost seem like strangers," Sherwood Anderson wrote in a foreword.
Stein is particularly relevant now as she was a mentor and guide to the Lost Generation in the 1920s, a group of creators left to meander after the 1918 flu pandemic and World War I. It's ironic that this group, which included Alice B. Toklas, Picasso, Matisse and Ernest Hemingway, would be the ones "helping future generations find each other," according to change agency Impossible Company. "By inventing modern art and writing literature differently, they gave people new meaning. It is this notion that we are trying to invoke, "explains Rita.
"By making the familiar seem new, like strangers, we looked at various influences from the past century to create something like the forward-looking past – resulting in designs and craftsmanship that celebrated the notion. of time and place, of the experimental and the contemporary. pieces, embracing different perspectives, individuality and self-expression through objects, "says Gabby.
The Roaring Twenties and Art Deco are channeled into Mejore's Soledad bar cart with its openwork design and La Galuche mirror. The richness of 1950s post-WWII Italy, graphic posters and Mid-Century Modern, is reflected in the geometric lamps by Venzon, the wicker furniture and lamps by Ora Cebuana, and the Saucer coffee table by Zarate.
The Californian dream of the liberated 70s was featured in some pieces, inspired by Palm Springs, Cher hair and the desert, which was quite a collection inspired by Agnes Martin. The tables by Finali have abstract patterns of cacti in bamboo, wood and glass. Manila in the 1970s was a rich source, from bottles of toyo and tansan to food like multi-colored fir-fir, which inspired the pattern on La Galuche's shagreen table. Haspe's strength in woodworking was harnessed to create the duo's tribute to the jeepney with bentwood and brightly colored upholstery and solihiya.
With the pandemic making us aware of the importance of nature and taking back the memories of bowling in Buendia. Nazareno's encounters with surfers inspired Weave Manila's woven surfboards while Lichauco, an avid cyclist, produced a Commuter collection for Prizmic & Brill.
Some projects happened by chance like when the duo wanted to make paddles and discovered that Contemporaneo's technique was perfect for the job. This made Arnulfo Milambiling, the owner, excited because his father made paddles when he was younger and they went fishing in Masbate. It was such a personal passion project for him that it resulted in the most beautifully designed decorative paddles in solid mahogany and recycled wood chips.
If those parts pop off the screen when you scroll down the MOM site, there's also a credit to Vince Uy and CoStudio, whose visuals, photographs and stories behind the products "took the products to a whole new level," says Rita. .
Pauline recounted how the team of 50 creatives comprising photographers, set designers, graphic designers, models and stylists, among others, had to do everything with all the restrictions and protocols imposed by the pandemic just to meet the deadlines but successful with amazing, highly organized content. The Filipino spirit of bayanihan, after all, is taking us through the worst times and continues to be our saving grace to get through this pandemic and achieve wonderful things.
* * *
CITEM will organize FAME + Market Days, a digital sourcing festival from October 20 to 22. Visit www.fameplus.com and follow @manilafame on Instagram. Follow the authors on IG @rickytchitov; Twitter @ RickyToledo23; Fb – Ricky Toledo Chito Vijandre.