Cedar Hill high school students find design work outside of the classroom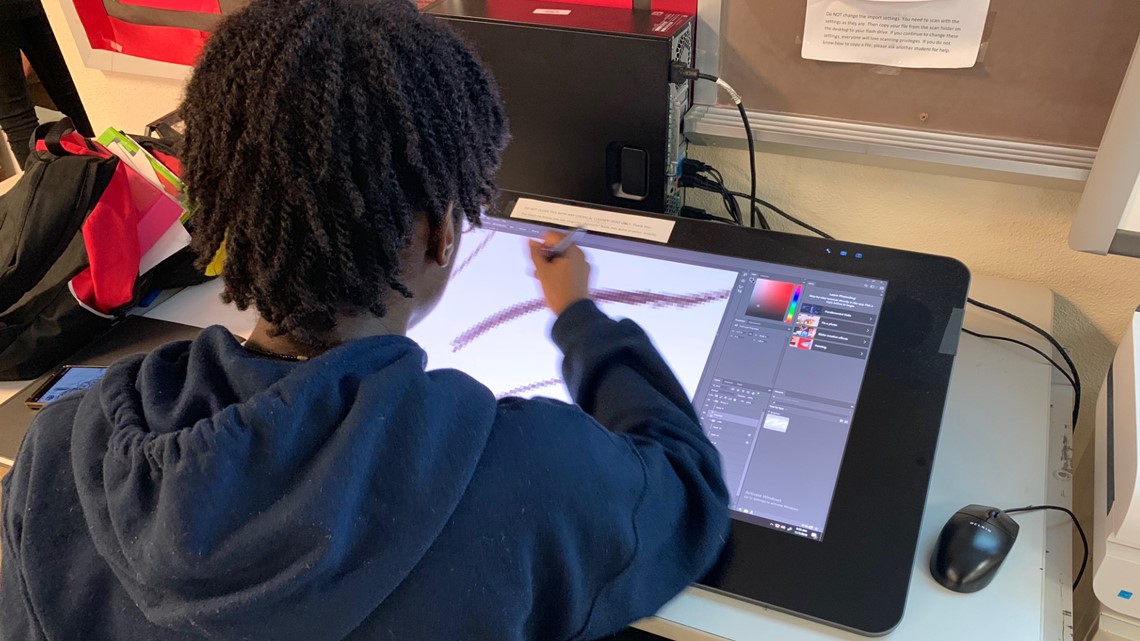 While many schools and classrooms in Texas have recently struggled to gain hands-on experience for children, Aaron Kennedy has provided real-life business for his students.
CEDAR HILL, Texas – Ashley Pilot is a senior at Cedar Hill High School. She always considered herself to be the artistic type, but was not always able to express the ideas in her mind.
"Being able to not overthink something and get it all out," she explained.
That's why she signed up to take a graphic design course at Cedar Hill High School in her second year.
Once she realized how much this course has helped her be creative like never before, she re-enrolled for her junior and senior years.
"You have your period, but you still have the freedom to be who you are and to express yourself," Pilot said. "Even outside of graphic design, you learn to deal with other people for different things in life."
Ivan Addison is a junior, also in graphic design, who was put into the course when he arrived at Cedar Hill High School. Although he didn't choose it initially, he said that graphics are now one of his favorite classes.
"I am fortunate enough to put my things there," he said.
Aaron Kennedy teaches the graphic design class at Cedar Hill High School. He has been working at the school for nine years and also teaches other audio and video courses.
But specific to his graphic design class, he knew he wanted them to gain hands-on experience early on.
"When you walk into my classroom, you are not a child," Kennedy said. "I don't treat anyone like a child. I treat everyone like an employee."
RELATED: Chickenfeather, Texas: How Dark Crime Gave This Town Its Weird Name
For the students taking Kennedy's course, they have to go beyond the textbook and the computer and find work.
While these students create designs and banners that you will find in the school, they also have to contact real companies and agree to pay jobs for different companies.
"You have to know how to market yourself and how to advertise yourself," Kennedy said.
Kennedy also does some promotion of his students himself. He said he had former clients from old jobs that he kept in touch with and would help his students find opportunities.
"I'm trying to build a lot of confidence," Kennedy said. "I try to make them understand that they can go out and that they can do more. They can be creative."
Cassie Johnson, a physics professor at Cedar Hill, is also someone with a creative side.
"I'm a hobbyist and have been making candles and soaps for quite some time," Johnson said.
She recently decided to turn her hobby into a candle and soap business: The Sassy Teacher Candle & Soap Co.
She hired Addison to create her brand and company logo.
"As I got into my products and more into some research, I kind of changed my outlook," Johnson said.
This created a lot of back-and-forth emails between the two, as Johnson tried to figure out exactly what she wanted in her logo.
While Johnson said she always apologizes for asking for updates and changes, Kennedy said this is what the real world looks like and is good for students to live with.
"My students do an amazing job, but it doesn't matter if the client ends up not liking it," Kennedy said. "It's an essential skill that students need to learn. I would much prefer that they learn it while they are in high school where, if they fail, I am there to support them and help them through.
Kennedy also set up a printing press in his classroom that is available to people outside of the school. He said that many students who will continue to do some type of graphic design will come back to use the print shop.
"The creative ability to think differently is going to serve them very well," he said.
RELATED: Duncanville Police Warn of Increase in Scams Involving Gift Delivery to Victims' Homes
Pilot said she plans to embark on interior design after graduating and that she plans to use a lot of what she has learned over the past three years.
"It's a very satisfying feeling to be able to see something that you imagined that you never really knew how to bring to life," said Ashley.
So, over a year with little in-person learning, these students had plenty of real-life lessons to take with them outside of the classroom.