'Bullet gratefully dodged': Failed proposals that saved Sydney from an even worse fate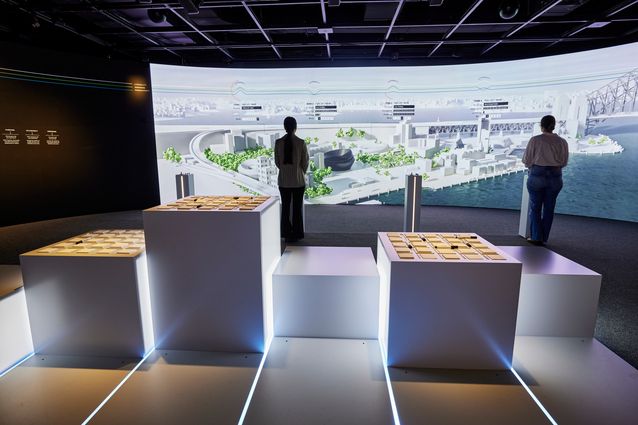 a day in In March 1992, a black and white drawing floated from fax machines in Sydney. The image showed a newspaper clipping of a proposed building for East Circular Quay. Titled "wingless 747 about to hit the Opera", the design was carried out by architect Dino Burattini. It was an exercise in eclectic style complete with racing stripes – a giant Mayan temple with half a nod to Art Deco and half to the Parramatta Road cut-price bottle. I was a councilman at the time and our East Circular Quay Ideas Quest competition was in full swing. Everyone thought Burattini's 747 was more of a hoot. Now reproduced in the fascinating Museum of Sydney Sydney unrealized show, it mainly causes relief. At least the beast wasn't built.
Collecting the "unrealized visions" of a city has become a kind of editorial genre – Berlin, London, Chicago, New York. Most of the time, such visions engender quiet regrets. Eric Irvin's 1974 book Sydney as she could have been: dead dreams on the drawing board features a dozen buildings you'd rather see happen. From the 1859 proposal for a grand Gothic parliament building next to Hyde Park Barracks to the ornate Elizabeth Street railway station of 1897, they gave more than they took. not so Sydney unrealized.
Here, just about every pattern generates warm gratitude. As abraded as Sydney has since become, as plagued by greed, incompetence and repeal, most of these proposals, had they been constructed, would have made her worse.
A striking antechamber of the spectacle is Realize, an urban design consultation exercise by the Museum's curatorial team. Here you can test the effect of various mass building and green canopy options in different parts of downtown Sydney and leave your suggestions on a sticky note (most popular: affordable housing). This is all quite amusing and makes you wonder why on earth our governments, despite their fervent protestations of consultative aspirations, do not systematically deploy such methodologies.
As for Sydney unrealized strictly speaking, eight sites in the city center are selected. In the approximate timeline, these are Bennelong Point (Tubowgule), The Rocks (Tallawoladah), Woolloomooloo (Wallamool), Darling Harbor (Tumbalong), the Museum of Sydney (First Government House site), Macquarie Street, Circular Quay ( Warrane) and Barangaroo.
The end of the 20th century was not a high point for architecture, on a global scale. And while egregious things have happened on most of these sites, it's becoming clear that even more egregious things have been offered. However, Sydney unrealized, hosted by UNSW Sydney planning professor Robert Freestone is obviously deadpan. It gallops through proposed deletions and demolitions, green bans, controversies and heated public protests without missing a beat.
Even when presenting Edwards Madigan Torzillo and Briggs' 1964 proposal for a forest of towers that would have obliterated most of The Rocks ("move" Cadmans Cottage like poor old Willow Grove, now a pile of rubble in a storage shed), or when confronting the 1971 plan to fill five acres of the Woolloomooloo Valley with an extensive series of towers and highways, Freestone stops modestly at criticism.
This measured position is quite deliberate. The second half of the 20th century was a time of disillusionment, a time when disappointment with modernist promise sparked huge protests in defense of heritage, bushland, social housing, community and texture urban. This Freestone willingly admits. However, he firmly refuses to mount a controversy. "It's not an exercise in anger," he thinks. Rather, in resolute historian mode, he lets people judge for themselves whether or not "we dodged a bullet." In almost all cases the answer is yes – ball gratefully dodged.
Consider the other contenders for the 1956 Sydney Opera House competition. Praise the powers that be, although Utzon's effective sacking did indeed undermine much of his design intent, his masterpiece has at least been built. It's a safe bet that, if any of the other schemes had taken place, Sydney would be much poorer. But it's a bet, not a certainty. Why? Because, oddly, the competition files were returned to their authors without having been documented. The best record Freestone could find is a Women's Weekly article of the time. It shows three drawings: the finalist, by seven anonymous "American architects"; third place from Boissevain and Osmond, UK (who designed the Elephant and Castle shopping centre, now ironically demolished by Lendlease) and a 'mention' of a project by Harry Seidler and others. All three oscillate somewhere between Robert Matthew and Leslie Martin's 1948 Royal Festival Hall in London and Max Abramovitz's (now David Geffen's) Philharmonic Hall at New York's Lincoln Center, which opened in 1962 but was designed in the mid-1950s. They fit well, as the boxes go, but none hold a candle to the Utzon.
Thirty years later, in 1986, Seidler designed a casino tower in Sydney for Donald Trump (in partnership with the Kern Corporation of Queensland). This proposal was to occupy the site of what became Darling Park – also designed by Seidler but completed by New York firm Kohn Pedersen Fox – on Sussex Street at the eastern end of Pyrmont Bridge.
The Trump Casino, which the new Darling Harbor Authority endorsed as "wealthy, attractive, and well-integrated" and with "strong public appeal," reportedly gave Trump-Kern an "unqualified certification" for running the casino. Fortunately, it was rejected by Unsworth's Labor government – partly because it was "not financially viable" and partly because of "Trump's Mafia connections" (revealed by secret police documents). NSW Police declassified in 2017 after 30 years).
The tower itself was classic 1980s Seidler. A sinuous building unfurling the opposing quarter-round motif that characterized what Seidler called his "baroque" period, the hotel tower was inspired by buildings like his embassy in Paris from 1977 and the Melbourne headquarters from 1989. Next to this curved hotel was the casino itself, drab, orthogonal and windowless, covered in an expansive mix of large landscaped terraces.
No regrets, then, although it was hardly worse than most of what was built in Darling Harbor with great haste for the 1988 bicentenary – and demolished even more hastily in 2014.
Kohn Pedersen Fox was also behind the truly appalling East Circular Quay proposal that features in Unrealized. Huge and introverted, this plan, thankfully unbuilt, was responsible for all the East Circular Quay controversy and, incidentally, for my election as councillor. "The building is just too big for the place," I wrote in the 1991 Sydney Morning Herald article that inspired Frank Sartor to invite me on his post. "Too high, too wide, too big, period."1
One of the few regrets of the exhibition is Barangaroo. There, the beautiful and complex winning design of the Hill Thalis Architecture and Urban Projects competition would have been vastly preferable to the common plague that Barangaroo has become. With its successive modifications doubling the initial permitted floor space, blocking public views and stealing public land, the development has become a symbol of our governments' continued public betrayal.
For Freestone, the central and defining question of this beautiful and fascinating exhibition is "What can we learn from past unrealized visions? This brings us to the loop of the show Realize antechamber. It also prompts the obvious answer: we must learn to deliberate hard, deeply, and collectively about the kind of city we want before we further and irrevocably mess it up.
Unrealized Sydney is on display at the Museum of Sydney until November 13.