Ann Elaine (Carter) Richardson | Obituary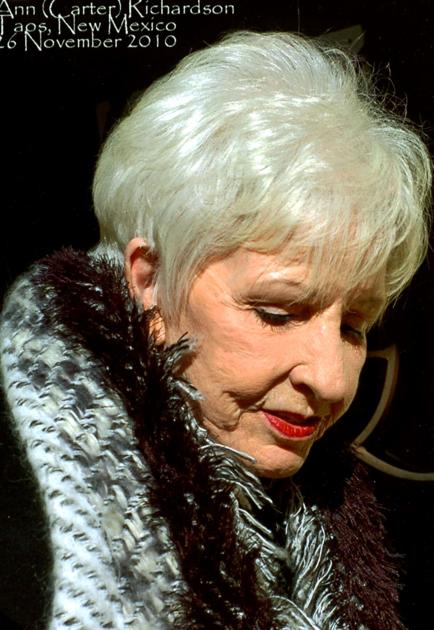 Ann Elaine (Carter) Richardson, beloved wife of James P. Richardson II, was born to Finis Ewin and Margaret Emma (Walker) Carter on September 10, 1935 in San Angelo, Tom Green County, Texas, the second of three children.
Her parents moved to McCamey, Upton County, Texas when she was just a few months old. She called McCamey "home" until she graduated from McCamey High School in 1953 to continue her education at the University of Texas at Austin.
She initially thought she would like to be a nurse, but found her true calling in food. She had some difficulty with chemistry at school until a caring and concerned teacher reminded her that chemistry was very much like her calling, cooking; it was just that the ingredients were different.
This advice changed everything; She majored in Home Economics with an emphasis on Food and Cooking until graduating from University with a Bachelor of Science in Home Economics on June 1, 1957, with the intention of pursue her studies to become a certified dietitian, thus combining her two major interests. Although becoming a registered dietitian never materialized, she received her Masters of Science from Corpus Christie State University on August 16, 1991.
Ann spent 1958 in San Antonio, Texas teaching at a school where she met a young man who took her away. She returned to Austin and worked as a dietitian at Seton Hospital while he was finishing school, eventually graduating from college. They married on January 31, 1959 and moved, first to Houston, then to El Paso, in the early fall of 1960, where they remained with their two children.
Ann taught home economics at several high schools in the El Paso Independent School District for 39 years; the longest tenure of over 25 years was at Stephen F. Austin High School where for the past 20 years she has taught a co-op program in which students took formal classes and worked in related jobs home economics for which they received credits for their high school diploma. Some of her former students remain in contact with her. She retired from the El Paso School District in May 2001.
After a divorce in May 1976, she met James P. (Jim) Richardson, also a graduate of the University of Texas at Austin and a practicing architect in El Paso, at a gourmet cooking class in El Paso where they discovered several other common interests. including music, interior design, gardening, entertainment, travel, continuing education and their unwavering faith.
She was a faithful member of St. Paul's Lutheran Church for over fifty years; she and Jim sang in the choir until the virtual dissolution of the church. They are now members of St. Clements Anglican Church where they also sang in the choir until his health began to decline. They were married by Rev. Dr Alfred Belles on June 25, 1977 and celebrated their 44th wedding anniversary together a few days before his death at home on June 30, with Jim at his bedside.
She was an active member and served on the board of directors of the El Paso Woman's Club and the El Paso Retired Teachers' Association. Ann was a member and officer of the Desert Hills Garden Club; her floral arrangements and paintings have often been judged "Best of Show" at the annual Garden Show. She spent nearly sixty years as a member of the Las Amigas Study Club, a local social and philanthropic organization dedicated to creating "a social and intellectual atmosphere for the promotion of individual growth". She and Jim discovered the Osher Lifelong Learning Institute (OLLI) at UTEP where they met many new friends, reestablished older and long-standing relationships, and enjoyed the thrill, companionship, and fun of learning together. taking courses on a wide variety of subjects.
Along with three other couples, she and Jim helped establish a food group that, for 27 years, met two to three times a year to enjoy each other's company over a carefully planned and executed gourmet meal. with paired wines that rotated between the four houses.
Ann was predeceased by her parents and brother, Robert Ewin Carter.
She is survived by her husband; his younger sister, Gay Beth Carter of Las Vegas, New Mexico; her son, Alan Wayne Uecker (Jill) of Spring Branch, Texas; two granddaughters, Meghan Elizabeth Uecker and Rachel Kaitlyn Uecker; and her daughter, Sherri Ann (Uecker) Gabberty (Kevin) of St. Petersburg, Florida.
A memorial service will be held at St. Clement's Church, 810 N. Campbell, in El Paso, Texas on Saturday, July 31, 2021 at 10 a.m. A short reception will be held in the Mayfield Room after the service.
In lieu of flowers, those who wish are requested to make a contribution to their favorite charity on Ann's behalf. The urn containing her ashes will be returned to her husband while awaiting the moment when he will join her; there will be no burial service.