1 Toronto Sustainable Luxury Hotel designed by Rockwell Group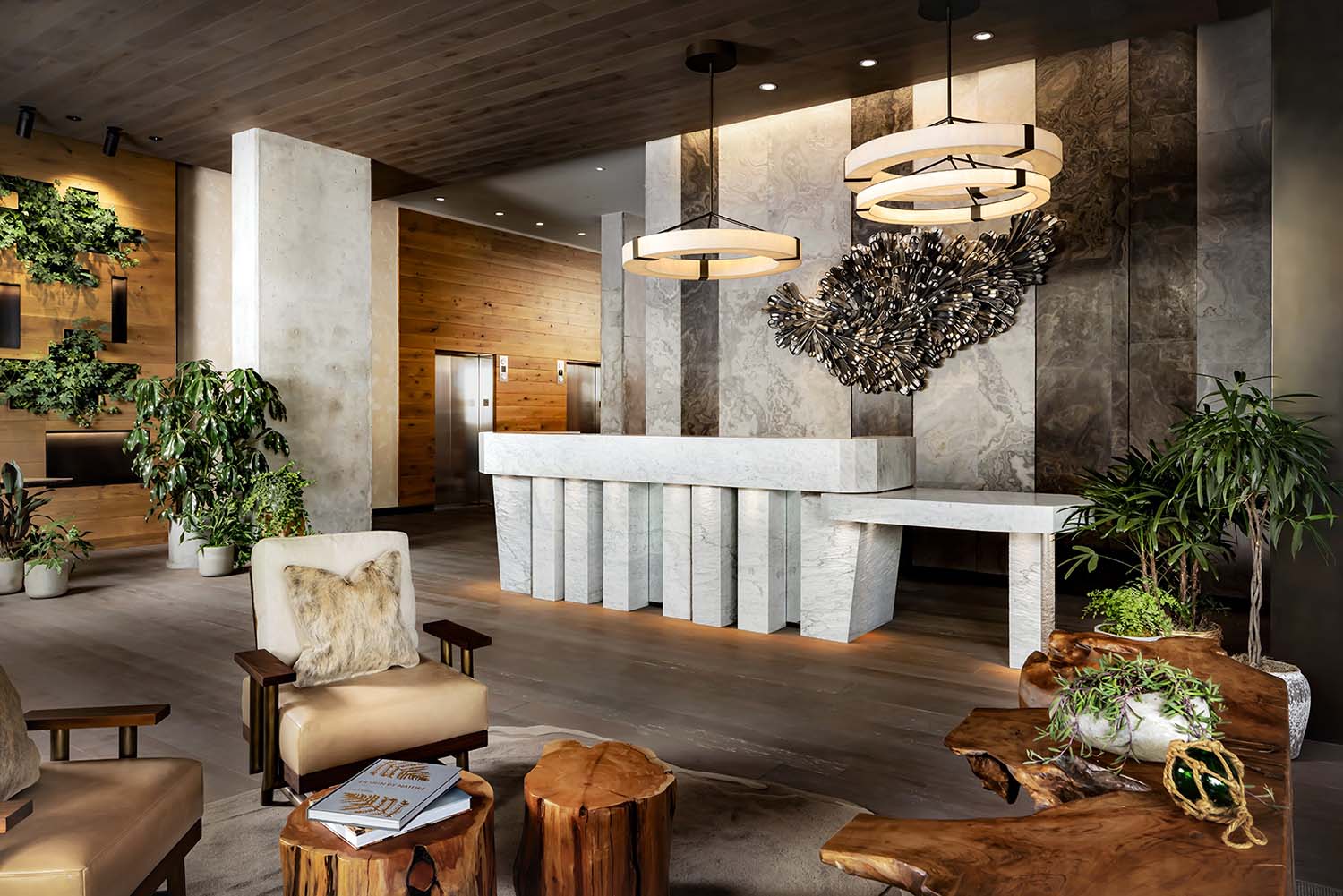 "What if a luxury hotel was an inviting portal to the natural world, instead of a flight? "
That's the question New York-based architecture and design studio Rockwell Group asked itself – and answered when reviewing the interior of the 1 Hotel Toronto. Billed as Canada's first mission-oriented hotel, the property salutes the wonders of Toronto's natural environment; providing an urban oasis in the heart of the city, while providing a high level of 'sustainable luxury experience'.
Opting for materials such as reclaimed wood, plank concrete, and local marble, the hotel's aesthetic is inspired by the muted colors of Lake Ontario and the contrasting tones of the passing seasons. The bedrooms are light and airy with sliding barn wood doors dividing the bedroom and bathroom. A natural wood accent wall sits behind the bed, next to a leather headboard, while art sourced from a local wood studio and composed of a fallen tree fragment adds a more local and personal touch.
"Our vision for the hotel invites guests to celebrate Toronto's ecology through materiality and locally made artwork," says Rockwell Group founder David Rockwell.
A warm, nest-like space surrounded by floor-to-ceiling bay windows welcomes guests and ensures a continuous flow from the outside to the inside. Framing the entrance to the latter of 1 Hotels is a mixture of granite and limestone boulders, maple trees, local plants, warm woods and a green awning reminiscent of Canada's natural landscape.
With two bars and two restaurants on-site, the property offers a full dining and refreshment experience, Contemporary Kitchen 1 sporting a vintage vibe, is set in a glass-walled veranda-like space with a vaulted wooden ceiling, farmhouses curved hanging with greenery, and serves food from a radius of 50 km.
The Mexican restaurant Casa Madera, meanwhile, follows the design codes of the hotel while offering an immersive dining experience through the culinary traditions of Mexico and the Mediterranean. On the rooftop, guests and locals alike can take in the most expansive views of Toronto from Harriet's Rooftop, a luxurious rooftop space decorated with reclaimed and durable materials and serving light snacks and handcrafted cocktails.
The inspiring principles of the sustainable luxury brand 1 Hotels seen through the aesthetically clear lens of this famous New York design studio, 1 Hotel Toronto is a natural oasis of calm for this city on the shores of Lake Ontario.
@ 1 hour hotels
@rockwellgroup